Comparing Windows 7 versions
Common features
Windows 7 offers a fairly broad set of features across the board, with a lineup that is far more consistent than in Windows Vista or Windows XP. This page contains a list of features you can count on being able to use in every edition.
Windows 7 Starter and Home Basic
Previously, Starter edition was known as "the one that wouldn't let you use more than three apps at a time." Fortunately, Microsoft reversed course on that one, and the final version of Windows 7 Starter should actually be capable of performing just about any Windows task. As long as you don't want to watch a DVD or change your desktop background. Home Basic is the other "non-premium" edition, available only in emerging markets and not in the U.S., Europe, and other developed nations. It's a little more interesting graphically than Starter, but lacks what Microsoft considers premium features like Windows Media Center.
Windows 7 Home Premium
This is the entry-level edition for most consumers. It has the full Aero interface, Windows Media Center, and a few interesting surprises depending on your hardware.
Windows 7 Professional
After a brief name change (to Business edition) in the Vista era, the preferred upgrade for businesses and enthusiasts returns to its roots, name-wise. The feature set is long and interesting, with the ability to run a Remote Desktop server, encrypt files, make network folders available offline, and join a Windows domain. Oh, and did I mention a licensed virtual copy of Windows XP for those one or two pesky legacy apps?
Windows 7 Ultimate/Enterprise
Two different names for essentially the same product. In the retail channel, Ultimate edition was perhaps the biggest marketing fiasco for Windows Vista, which is maybe why it's being downplayed here. The biggest selling point is BitLocker disk encryption, which now works on USB flash drives as well. Enterprise edition is the same product, packaged separately for volume license customers who buy the Software Assurance program; they also get access (for an additional license fee) to the Microsoft Desktop Optimization Pack.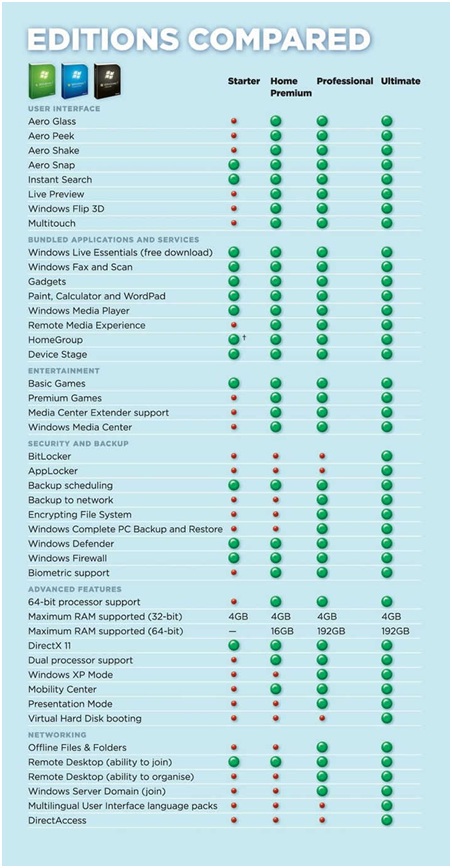 Source : Microsoft International


Similar topics
---
Permissions in this forum:
You
cannot
reply to topics in this forum